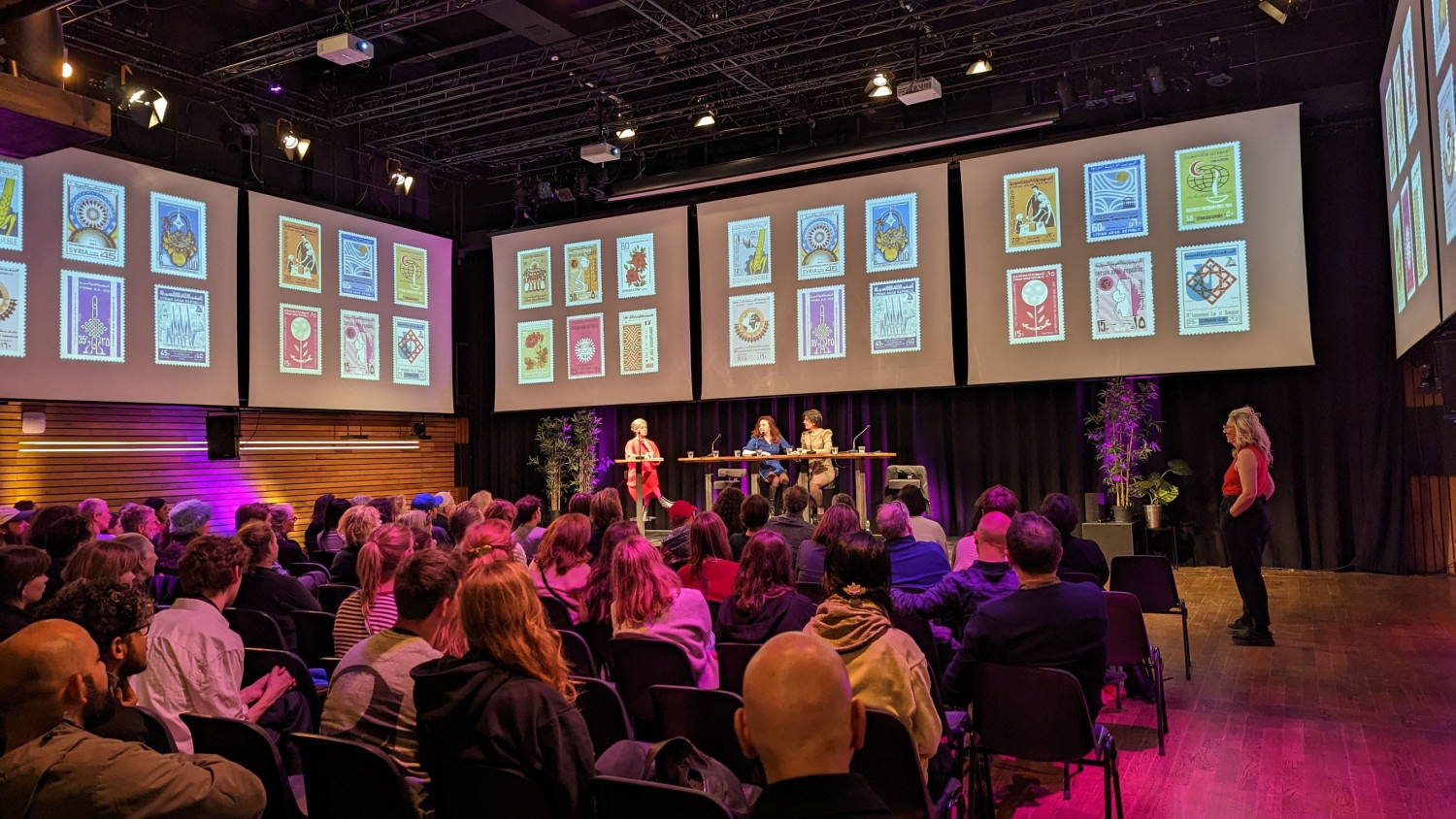 It's All Graphic 2022: Critical Interventions in the (Graphic Design) Archive
Presented by the Wim Crouwel Institute at Pakhuis de Zwijger
Thursday 1 December, 20:00-22:00

The Wim Crouwel Institute encourages fresh perspectives on the links between graphic design's heritage and contemporary practice. It is particularly interested in how graphic design history can be understood in the light of today's pressing socio-political issues.

For this year's 'It's All Graphic', specially curated to follow Prof. Dr. Alice Twemlow's inaugural lecture at the University of Amsterdam, the invited speakers addressed the role of graphic design in decolonizing, depatriarchalizing, and other reframings of the archive.
Moderated by Alice Twemlow and Roosje Klap, the speakers were:

Syrian Graphic Design Archive (Kinda Ghannoum and Sally Alassafen)
Grafis Nusantara
Tabea Nixdorff, curator, Feminist Design Strategies
Remco van Bladel, co-founder, Archival Consciousness
Alice Wong, media-artist-in-residence, Open Archive 3.0

A recording of the event is available here
Previous editions of It's All Graphic:
AIG7 Vital Design: An homage to the design of organisations that play vital roles in today's society With Roel Stavorinus, Jaco Emmen, Tom Dorresteijn en Archie Lyons, 07-05-2020
IAG6 Data visualization: Looking into the past and future of data and design. A co-podruction with Graphic Matters. With Dennis Elbers, Gert Franke, Paul Mijksenaar, Suze Swarte, Ben Prins (NOS op 3), 01-10-2019
IAG5 About Illustration: An evening about illustrators and their field of work. With Rogier Trompert, Talitha Snel, Kim Raad, Helen van Vliet, Gert Gerrits, Markus Praat, 23-04-2019
IAG4 Logo x Logo Visual identity development: where did we start out and where are we heading? With Roel Stavorinus. Met Claire Parker, Erik de haas, Smack, Henk Haaima, Dennis Flinterman, Roel Stavorinus, 15-11-2018
IAG3 The graphic revolution: What skills are needed to prepare designers for the future? With Sherida Kuffour, Silvio Lorusso, Erwin Slegers, Hanneke Metselaar, Frederike Huygen, 17-04-2018
IAG2 Activism and graphic design: How can graphic design be activist? With Lies Ros, Roosje Klap, Yuri Veerman, Ruben Pater, Raul Balai, Chris Vermaas, 16-11-2017
IAG1 Culture of Dutch design agencies (around Total Design) With Paul Mijksenaar, Arlette Brouwers, Joost Klinkenberg, Graham Sturt, Anne Miltenburg and Oygar Erdal, 24-05-2017